FOR IMMEDIATE RELEASE
Contact: Linda Law, Executive Director of the Center for 4D Arts
email: centerfor4darts@hotmail.com
ADVANCED HOLOGRAPHIC FACILITY FOR THE USE OF ARTISTS TO BE BUILT IN BEACON BY THE CENTER FOR 4D ARTS
The Center for 4D Arts has recently received notice that they will be the recipients of a donation of funds from Jonathan Ross the owner of the world's largest collection of holograms. In addition, Ross has agreed to become a board member for the Center for 4D Arts and help with the growth of this new organization. This donation comes on the heels of an endorsement by the International Holography Manufacturers Association who support 4D Arts in this new endeavor. We are also endorsed by the Center for the Holographic Arts in Long Island City, a sister organization, who facilitate art holography including an artist in residence program at Ohio State University.
Under the guidance of Executive Director, Linda Law, who is the co-founder of this organization with Maria Marewski, (Founder and former director of Children's Media Project in Poughkeepsie), The Center for 4D Arts is moving forward with the establishment of a new holographic facility. With a mission to provide access for artists to equipment and facilities, education and exhibitions on all aspects of 3D + Time, this facility is part of a large plan to fulfill our mandate. We have already received a number of large donations of optical equipment and lasers appropriate for holography. Several leading holographic engineers have offered their time and technical skills to help us make this a state of the art facility. We are fortunate as well to have leading artists in the field looking forward to teaching in our center and volunteers to help us build out the facility.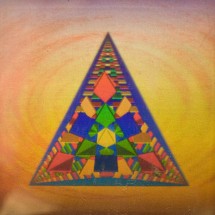 We are raising funds to achieve the building of this working facility. Watch out for our Kickstarter Campaign and help us spread the word.
We are actively looking for volunteers and student interns. Whether you want to get involved or just keep informed, sign up for our e-mail list at: centerfor4darts@hotmail.com.
Linda Law is the Executive director of the Center for 4D Arts. She is also a holographic/digital artist who works with multi-media. Her long experience in the field of 3D has included working in holographic research, as curator of the New York Museum of Holography, independent curator of many exhibitions of holography, writing on the subject for a number of magazines, and many years of teaching workshops in holography to students of all ages.
The Center for 4D Arts is a fiscally sponsored project of the not-for-profit, The Solo Foundation, NY. Tax deductible donations to the Center for 4D Arts can be made through the website of the Solo Foundation.