About the Light and Space Residency Program
Julia Sinelnikova
August residency / September Installation

Saṃjñā ⌘  light sculpture
Julia Sinelnikova is an interdisciplinary artist who works with holograms, performance, and digital culture. Her light installations have been exhibited internationally, and she has performed widely as The Oracle of Vector Gallery NYC. She has received commissions from Pace University, SELECT Fair, and Norte Maar, and designed sculptural sets for an array of electronic musicians, including Machinedrum, Justin Martin and Lee Burridge. For the month of August, she will develop a new interactive visual environment based on light retractions at HoloCenter.
Kazue Taguchi
September Installation

'Light is intangible and invisible, but its effect on our lives is profound. My interest in creating works with light is in experiencing the phenomenon of their visual qualities as well as in the creation of a relaxing and sublime space.'

Kazue Taguchi was born in Japan, currently lives and works in New York. She received her M.F.A. with a concentration in glass in 2007 from Virginia Commonwealth University.  She has also studied at the Barcelona Glass Foundation in Spain and Joshibi University of Art and Design in Tokyo. She has been a resident artist at Pilchuck Glass School, Corning Museum of Glass, Cite
Internationale des Arts in Paris, the Lower Manhattan Cultural Council, the Newark Museum, and Vermont Studio Center. Awards include, The Agency for Cultural Affairs Government of Japan, a supporting award from the Jutta Cuny- Franz Foundation in Germany, Finalist of the Bombay Sapphire Prize Exhibition in London, Finalists of "Young Glass" Glass Museum Ebeltoft in Denmark.
She has held solo exhibitions at Kunst Palast Museum-Glasmuseum Hentrich, Düsseldorf, and the Alcorcon Glass Museum in Madrid, Spain. She also did the stage set for "Centennial celebration for John Cage: Competing time and spaces" at the Kanagawa prefectural gallery in Yokohama, Japan (2011), and "Chaconne" at the Sophiensaele theater in Berlin, Germany (2011, 2012).
Lana Briscella (aka Lana Blum)– CELESTIAL BALLERINA
Digital hologram capture project in collaboration with Diana Vishneva "Transcend time through movement. Transcend space through holograms – the reality is a projection." -Lana Briscella
3D Scanning workshops May 28 and June 4, 2016, 12-4pm
This project is supported through the Holographic Art Grant Program. Exhibition of Briscella's digital holograms and further workshops in September.
Louise Foo + Martha Skou Installation September 10 & 11

Danish born Brooklyn based artist duo "Foo / Skou" work with interactive installations. 'We are curious to translate light to sound and vice versa. We want to explore terms like wave interference and moire from both audio and visual perspectives'
Birdprint (print + iPhone application) 2014
G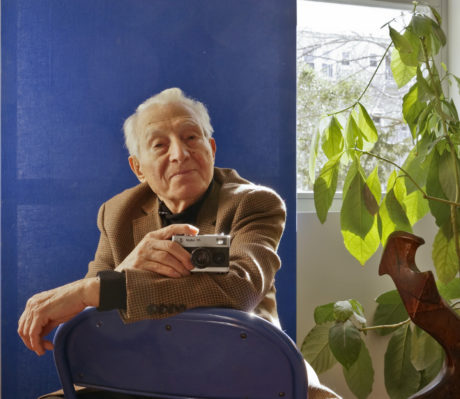 ene Tulchin & Paul Johnson – 3D Lenticular Portraits and Abstract Images
August Installation
Gene Tulchin is a practicing painter, photographer, and computer graphics artist who was an Associate Professor at The Cooper Union School of Art for over twenty-five years. Gene Tulchin's work has been widely exhibited in the United States and in Europe, including at The Museum of Modern Art, and the Brooklyn Museum of Art, Queens Museum of Science, Witkin Gallery, and Siggraph, to name a few. It is at The Cooper Union that Paul Johnson first met Gene Tulchin as his professor of photography back in 1977. Paul Johnson graduated with a BFA from The Cooper Union and went on to be an Emmy award winning Director of Animation and Special Effects for twenty-five years. In 2005 Paul Johnson started working with the 3D artist Gerald Marks who was also one of his professors at The Cooper Union, doing Auto Stereoscopic 3D images. This led Paul Johnson to research the 3D lenticular process and develop techniques for shooting and printing his own 3D lenticular images. Paul Johnson then did 3D lenticular photography for the Metropolitan Museum of Art, Top of the Rock at Rockefeller Center, Softmotion 3D, Adan Frank, Inc., Ball-Nogues Arcitects, and 1-800Postcards. He has exhibited his work at the Ricco Maresca Gallery, ArtExpo, The Armory Show, and the Kaufman Arcade. In 2010 Gerald Marks re-introduced Paul Johnson to Gene Tulchin so that they could collaborate together on printing large format 3D lenticular images. For the past two years Tulchin and Johnson have been working to develop techniques for shooting 3D lenticular portraits, which they are excited to show for the first time at this exhibit.
August 27 –Introduction to Lenticular Imaging and Artist talk with Paul Johnson @2pm – Reserve a seat and/or – Sign up here to have your portrait made

Tony V by Gene T. & Paul J., 3D Lenticular Digital Print, 16X 14"
June–August Installation
Analog Lumia Box, Multi­Channel Audio, Neon Light
Palace is an exploration of color, form, and movement inspired by theory and mechanics of early Lumia.
The term Lumia was coined by artist Thomas Wilfred, in the early part of the 20th century, to define the art of moving light. Lumia artists build kinetic sculptures to choreograph abstract, changing compositions of light. This unique art form gained in practice and popularity through the 1950s, only to be slowly forgotten, as film and television became ever more ubiquitous. A small handful of modern artists are dedicated to maintaining and evolving this artform.
Grant Cutler is a South Dakota­born Composer and Multi­Media artist living and working in Brooklyn, NY. For the last decade he has produced music for and collaborated with artists spanning many genres and mediums. Cutler's recent work explores the phenomena surrounding acts of recollection through experimental sound and kinetic visuals, representing memory concurrently forming and dissolving.
Sofy Yuditskaya with Ria Rajaon– Laser Mandala
RelativityTwo Teaser from yuditskaya.
June/July residency followed by performance installation

A mandala installation where people are invited to experience biofeedback from their heartbeat.
Come and experience the bio feedback Saturday July 30, August 6, and August 13,  2-4pm 
Daqi Fang   Rian (2016)
Rian is a a set of anaglyph photography work by photographer Daqi Fang and Illustrator Wenkai Mao, the project is about a journey of character Rian, it's also an collaboration, an experiment, on different landscapes, narratives and visuals, between city and wilderness, reality and dream, photography and illustration, image and poetry.
Daqi Fang is a multi-media visual artist, photographer and graduate of MFA Photography, Video and Related Media at School of Visual Arts, His interests lie in the digital era,  fantasy for nature environment and human's interactivity with it, his work has been widely showed in different countries and on numerous publications, now he lives and works in New York.