'Working with laser light as a medium heightens my connection, through
the work of art and light, to an appreciation, awareness, and concern for
the natural world.'

Betsy Connors creates artworks that bridge the form of technology with
nature as content. Inspired by a concern for the environment, she often
depicts images from nature as holographic installations. Her installations
sometimes include computer controlled mechanisms or robotics to alter
the lighting or motion in a subtle way.
Connors has exhibited throughout the world and has won numerous
major awards and fellowships during her career. She created the
permanent hologram installation Light Pond and the secret garden (2015)
for the Dana-Farber Cancer Institute in Boston. Her solo exhibitions
include Light Forest: The Holographic Rainforest, at MIT Museum (1996)
and Virtual Landscapes (2005) at the HoloCenter on Court Square, Long
Island City. Her work is in collections in Japan, Washington D.C., New
York City, and Boston.
Betsy Connors is an artist and educator associated with the cuttingedge research and experimentation in light and holography that grew
out of MIT's Spatial Imaging Group. At MIT she lectured at the Media
Lab (1990–2006) after graduating with a Master of Science degree in
Connors was also MIT Museum's first Curator of Holography. She
founded her own lab and studio, ACME Holography, in the Boston area
where she currently works.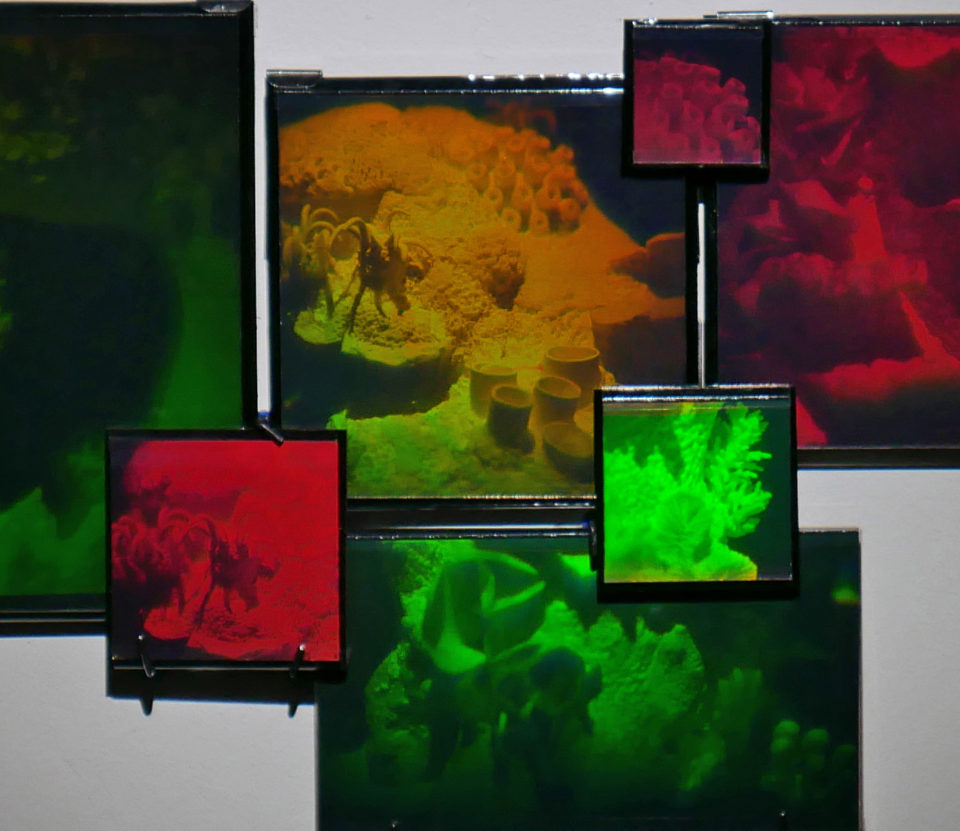 LIGHT REEF takes inspiration from the natural breathtaking forms of
living corals to bring attention to the threat of a future without these
fragile landscapes. Over many months Betsy Connors created models of
living coral animals and combined these with specimens of dead corals
found by specialists. She assembled miniature reefs that were recorded
as holograms in her lab.
Light Reef is a holographic mosaic with around two hundred hologram
tiles, ranging in size from one inch to four inches. As with some of her
previous environmentally inspired works each hologram is a window to
a whole image, and a fragment of a puzzle within a structure to create a
holographic mosaic
There is a strong similarity between the refractive underwater light of
shallow reefs and that of single-color reflection holograms as well as a
connection with the patterned, textured, corals to the Light Reef mosaic.
The familiarity of the mosaic form in art invites viewers to connect ancient
forms to the evolving relationships of art to technology.
It is difficult to capture the stunning beauty and uniqueness of real coral
reefs and to look beyond their beauty to the important role they play
in the ecosystem of our planet. This work is an homage to the living
landscapes of the underwater animals and to the hope of their survival.

Light Reef, 2019
Mosaic of reflection holograms, 19.5" x 23.5"
Edition of 2
More...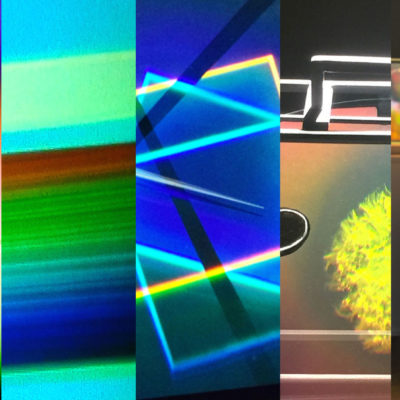 IRIDESCENCE