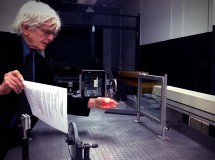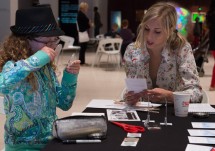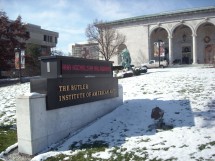 The Center for the Holographic Arts – HoloCenter –  is an organization dedicated to promoting and developing holographic artwork.  Focused on the art medium of optical holograms we also support light based installations, multi-dimensional imaging and experimental visual media.
Holography is unique in its capacity to bring virtual understandings into contemporary dialogues around media participation, technology and visuo-spatial information.  The HoloCenter has four main objectives: production, exhibition, research and education.  As an active non-profit arts organization our mission is to ensure that holographic art continues to evolve and inspire.
The HoloCenter is based in New York City with the seasonal HoloCenter on Governors Island and a studio and office in Astoria.  Art holograms are best seen in person so we encourage to visit the HoloCenter and exhibitions of holograms near you.
The HoloCenter was founded by respected holographic artists Ana Maria Nicholson and Dan Schweitzer in 1998.  Our exhibition programs were held at our Court Square studio, Long Island City until 2009 along with touring exhibitions including 'Generations' (1999/2000).  We operated the from The Clock Tower in Long Island City (2013/14), with the Vault Gallery as well as the major exhibitions 'Interference:Coexistence' and 'Uncertain Worlds'. 
The current Director, Martina Mrongovius is an artist, researcher and educator who develops holographic projects and curates exhibitions.  HoloCenter staff and our network of mentors work closely with artists to develop their concepts and provide access to a number of holography studios, including the HoloCenter Pulse Laser Studio at Ohio State University.  Through our programs we offer introductory workshops as well as individual residencies designed to enable the creation of holographic artworks for exhibition.  With support from the Hologram Foundation, Paris we launched the Holographic Art Grant Program in 2016 which provides a funding pool for artists to produce art holograms.
The HoloCenter is a 501c3 charity, kept alive by members, donations and grants.
Thank you for the support.
Save
Save
Save
Save
Save
Save
Save
Save
Save
Save
Save