Optical Materials Express
 – OSA's open-access, rapid publication journal – plans to publish a feature issue on "Design, Manuf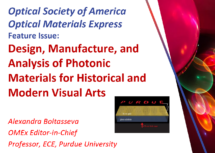 acture, and Analysis of Photonic Materials for Historical and Modern Visual Arts" that will highlight the impact that modern research in photonics and optical materials has had on visual art, lighting, and sustainable design.
This 
announcement
 provides the full scope, as well as submission and publication requirements.
Please note that 
Optical Materials Express
 is an open-access journal so article processing charges (APCs) apply.
The submission deadline is NOVEMBER 1.