Initially a painter, Margaret Benyon began to make holograms in 1968 when holography was available only to scientists. Her aim was to take holography out of the science lab, and to enlarge the boundaries of what was traditionally seen as fine art.
Her early body of work with holography was an exploration of those aspects that were unique to it. Living in Australia with her partner and two small children in the 1970's led to work that was more humanist and cross-cultural. On returning to the UK in the 1980 she began to use the human body exclusively, in a personal, partly therapeutic way. More recently she has been exploring the naturalisation of holography, and the female aesthetic.
Her work with creative holography has been recognised with academic fellowships, artists' residencies, and a number of other art and holography related awards. She is currently listed in the International Who's Who, and in the millennium year she was awarded an MBE by HM the Queen in the New Year Honours List 2000 for services to art. Her work has been seen in a large number of exhibitions, in countries as far apart as the USA, Canada, Portugal, Italy, Australia, France, Germany, Japan, and China. Her works are in a number of public collections, including the Australian National Gallery and the Victoria and Albert Museum, London, and in an undocumented number of private collections world-wide. In 1994 she received a Ph.D. from the Royal College of Art, London, for her research and activities in art holography.
Margaret Benyon made most of her holograms in her home studio on the south coast of England for 23 years. This was a basic, low-tech, non-commercial holographic studio, one of very few in existence. However, she also used more sophisticated international labs, and in 2005 moved to Sydney, Australia. Was an honorary Professorial Visiting Fellow at the College of Fine Art at the University of New South Wales before retiring for reasons of ill health. She died in 2016. 
– Jonathan Ross
---
HoloCenter Exhibitions & Projects

---
Interference:Coexistence (September 6 – October 19, 2013)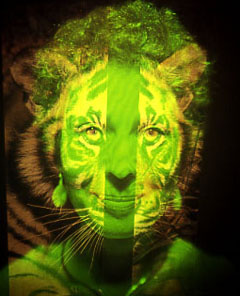 Tigirl, 1985

Reflection hologram and reproduction
Silver-halide on glass 30 x 33″
Courtesy of the MIT Museum
Tigirl is a seminal holographic work because of the way it creates an identity by combining the artist's holographic portrait with a photographic image. When viewed straight on the stripes created by the double pulse exposure blend into the tiger's stripes, and yet moving to the side the vivid holographic image disappears leaving only the tiger. This concept of layered image and identity was further developed in Benyon's ongoing 'Cosmetic Series' in which holographic portraits overlay painted "made up" images of the subjects.
"Tigirl is a work that very nearly didn't happen. I had been experimenting with a reproduction of a tiger over an interferometric double pulsed self-portrait, superimposing the eyes of the tiger so that they registered with each other. Then I thought it may be a bit too frivolous and put it away unassembled in a box. Then, I decided to take it to a meeting of the Royal Photographic Society Holography Group as it was always an opportunity to show and discuss work informally. Jeff Blyth asked what I'd been up to, and when I showed him the work he shouted for everyone to come and have a look. A queue formed and the general interest was as such that I thought I should make a limited edition."

-Margaret Benyon
Save
Save
Save
Save
Save
---
Links to Artworks, Collections and other Exhibitions

---
Jonathan Ross Collection – list of works
Holography, Lission Gallery, 1970
Tribute to Margaret Benyon, City Museum, Aveiro, Portugal 2018