'I have been manipulating photons for the last 30 years with a particular emphasis on holographic imagery and stereo photography.'
Pascal Gauchet's first artworks with light were black and white photographs. With these images he explored textures, shadows and shades of grey, often within the urban environment. The use of a wide angle lens and of compositions depicting strong perspectives point to his intention to compose "the whole message" – to construct an immersive scene reflecting the natural field of vision.
His encounter with holography presented a medium to explore this intent. The photographic constraint that ties the subject matter to the "cyclopean point of view" of the photographer, disappears. The hologram becomes a window, through which the image "floats", aerial and transparent, leaving the viewer to decide their own points of view. A new universe opens up, a new relationship with imagery.
Through holography he first explored light – "nature's intimate behavior", in a process which focuses on physical colors and its iridescent hue. In these works the volumetric aspect of holography is often being given secondary importance.
His recent construction of a system for synthesizing multiple photographic points of view into one single holographic image [multiplex process] enables him to go back to photography. A succession of discrete windows is distributed in space giving multitudes of points of view. Combined they create a single window of extended geometrical perspectives.
Random Memories was created with a Holographic Art Grant and combines Gauchet's work with abstraction and the multiplex process. Eight holograms are displayed on a vertical aluminum structure so as to seem lightly suspended. The reconstructed space appears fragmented. Some of the images are essentially graphical when some others act as real windows on hyper realistic scenes. Shapes and colors recombine and cross each other following the movements of the viewer.
An abstract space forms across multiple hologram panels. Virtual windows within physical panels produce a fragmentation and continuity of shapes. Colors combine and intersect charging the space around and between the holograms.
'My art work is mostly concerned with physical colours and the iridescent hues due to the diffraction of light.'
Pascal Gauchet studied creative photography at Nottingham Polytechnic, UK, and founded Atelier Holographique in Paris. He produced numerous commissions for Cartier, Christian de Portzamparc, Van Cleef & Harpels, Peugeot and other clients. Exhibitions of his own artwork include "Arts and new technologies" in Quebec, at Arco in Madrid, at the National Centre for Arts and Technologies in France and recently at the Arts Museum in Toulon, at the Lanterna Magica in Switzerland. He is currently preparing a solo exhibition in Paris for October.
Gauchet has revived awards from the Shearwater Foundation (New York), the Anthony Foundation (Houston) and the Hologram Foundation (Paris). His artwork is in the collections of MIT Museum, French Photography Museum, ZKM | Center for Art and Media Karlsruhe and private collectors.
More...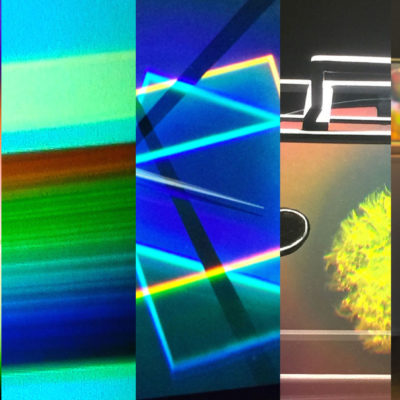 IRIDESCENCE