Installation with laser cut Fresnel lenses and video of the artist's skin being examined under the scanning electron microscope.
In this work I am interested in exploring the boundaries of sensory systems- human touch, my soft skin, juxtaposed with the alien rigid exoskeleton of the insect eye.

The compound eyes of insects are my inspiration for the laser cut Fresnel lenses hung in layer after layer, each new layer distorting and magnifying the last.  I do not show the whole eye, but rather eye fragments, each of which display the characteristic hexagonal facets of insect eyes. Peeking out from behind these laser cut lenses is a video exploring the landscape of my own skin under a scanning electron microscope.  The skin is projected onto larger Fresnel lens, which forms a focal point above the viewer.  By magnifying skin my intent is to 'shrink' the viewer down the scale of sensory receptors and create a greater awareness of mundane processes. 

My skin is my boundary, and through light and distortion I am blending these images with the nonhuman insect eye. The skin is barely recognizable in the resulting kaleidoscopic display, but the movement and fluctuations of light are still there.

Jess Holz, 2020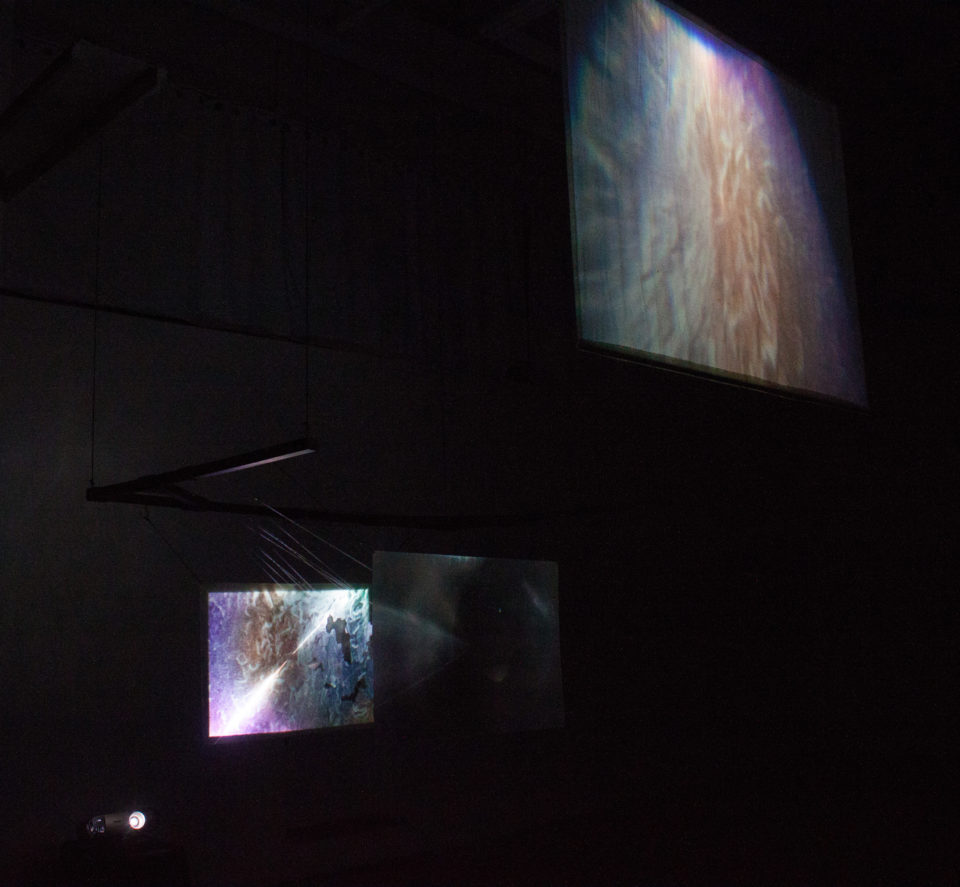 Inverted images of the skin surface sometimes show themselves on the surface of the insect eye-lenses, but soon vanish into colored light, unless the viewer holds still. The skin surface is in fact projected onto another, larger, Fresnel lens, which forms a focal point above the viewer. Visually this presents itself as a radially symmetric sunburst of varied light. While some traces of the original projected image remain, only by putting an additional lens in the path of this focal point can the original image be reconstructed, however I do not do this.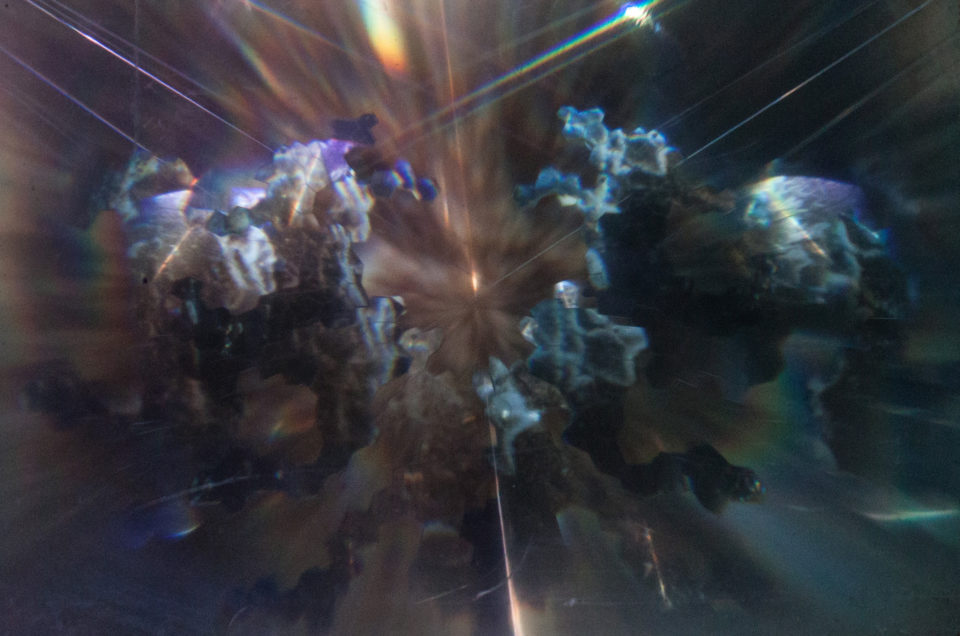 Jess Holz (b. 1985) creates artworks which give the viewer a peek into invisible worlds, as well as a chance to reflect on the influence of scientific visual culture on our collective imagination.
The discrepancy between what can be perceived by eye and what is imaged with the microscope has fostered her fascination with perceptual systems along with the optical properties of materials. Jess Holz actively exploits this in photography and installation.
Jess Holz has just received a MFA in Art+Technology at the University o Wisconsin-Milwaukee; previously she has worked in several labs and imaging facilities, gaining valuable technical experience with a number of microscopic imaging techniques. She currently works as an electron microscopy research technician at a Boston University lab which investigates the neural circuitry underlying thought and emotion. A true artist/scientist at heart, she has been using the scanning electron microscope for artistic purposes for the past 16 years. Her award winning micrographs have been exhibited nationally and as far away as South Africa, and have garnered the support of the Frederick Layton Fellowship and UW-Milwaukee Chancellors Award.