The Center for the Holographic Arts – HoloCenter –  is an organization dedicated to promoting and developing holographic artwork.  Focused on the art medium of optical holograms we also support light based installations, multi-dimensional imaging and experimental visual media.
Holography is unique in its capacity to bring virtual understandings into contemporary dialogues around media participation, technology and visuo-spatial information.  The HoloCenter has four main objectives: production, exhibition, research and education.  As an active non-profit arts organization our mission is to ensure that holographic art continues to evolve and inspire.
The HoloCenter is based in New York City where we present exhibitions at a number of venues, including SPACE:LIGHT at The Plaxall Gallery.
Due to COVID-19 we created Light Windows an exhibition of light by artists, wherever they are, around the world.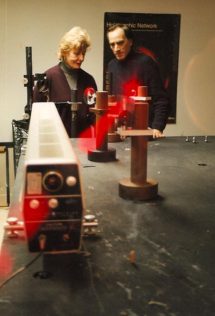 The HoloCenter was founded by respected holographic artists Ana Maria Nicholson and Dan Schweitzer in 1998 to enable artists to access the medium. Martina Mrongovius, PhD is the current director and the majority of our team are artists.
Our Exhibition Program began at our Court Square studio in Long Island City. We have also produced the touring exhibitions GENERATIONS (1999/2000) and IRIDESCENCE (2017 – ongoing).
The HoloCenter works with donated exhibition space.  Past locations include The Clock Tower in Long Island City, provided by No Longer Empty (2013/14), where we established the Vault Gallery and presented the major exhibitions 'Interference:Coexistence' and 'Uncertain Worlds'.  At the HoloCenter on Governors Island we offered free public programs (2014-19) with a number of major exhibitions, a studio residency program and teaching studios.
The HoloCenter Pulse Laser Studio at Ohio State University offers an annual introductory workshop and enables artists to produce new works with the pulse laser.
With support from the Hologram Foundation in Paris we launched the Holographic Art Grant Program which provides a funding pool for artists to produce art holograms and has resulted in the ongoing exhibition IRIDESCENCE
As part of the Make:STEAM initiative we are developing project based curriculum at a new optics and holography studio in Brooklyn.
The HoloCenter office, archive and library is based in Astoria, New York.
The HoloCenter is a 501c3 charity, kept alive by members, donations and grants.
Thank you for the support.
Current programs and opportunities
Receive email newsletters or get in Contact
Save
Save
Save
Save
Save
Save
Save
Save
Save
Save
Save