Adrienne Klein
HoloCenter Court Square Studio, June 1 – July 19, 2008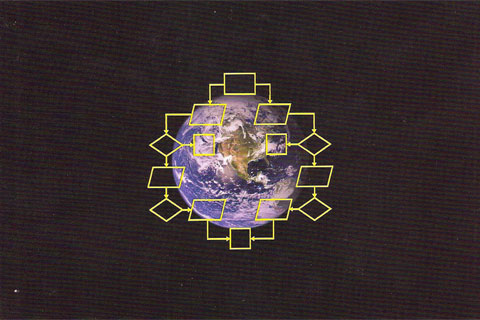 Klein's work often lets the viewer look through and beyond transparent layers. The work gives you options for what you may focus on, with the clear suggestion that there are multiple perspectives. This is especially true of the hologram that is central to this exhibition of new work; an illogical variation on a logic diagram appears to float over a video image of the Earth.
Klein writes,
"Logic Prevails – This is not a headline I expect to read soon, but a hope that flickers occasionally in the face of life's absurdity."
Another work appears to be a set of three lumps of amber that include specks and strands of organic material. Pieces of amber are especially prized when they include the intact bodies of insects from the Middle Cretaceous and Tertiary periods, 10-100 million years ago. These pieces seem to hold that possibility — with a video twist.
The exhibition includes drawings, video installations, constructions and the aforementioned hologram. Ideas addressed include semiotics and the artist's experience of amnesia. The artist is co-Director of the Science & the Arts series at The Graduate Center of the City University of New York.