Rainbow Galactica
Amy Rush
with Guillermo Heinze, Martina Mrongovius, Paula Nino Ramez and Park Joo Sup
December 8 – 27, 2007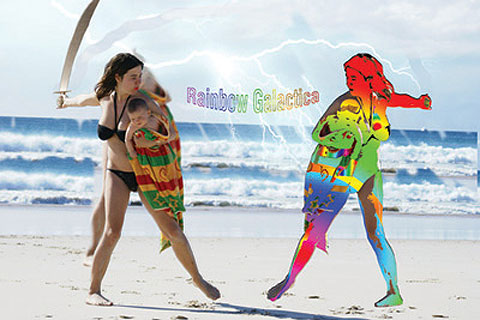 Rainbow Galactica
A passage into love and beyond
By Grace Hughes
A calling into another universe … resplendent with light … final twinkle … float upon the lichthaus boat. Floating floating floating. A magical exploration of a mesmerising realm. Do not be overwhelmed, one mere wink is all it takes to awake and celebrate the mystical space of rainbow galactica.
Another beam of light and the window blazes bright … let go, no need to hold on tight or travel with any fear, the rainbow superhighway slide will gently glide you from material remiss to virtual holographic bliss.
Crown of roses … immersed in glitter … suspended in space. This ain't no cheap kitsch 80's holographic kiss … sshhhh … hear the sound of the romantic triangle of bliss. Open your heart to the world beyond the rainbow as you are a rainbow, a beautiful rainbow fairy princess floating amid another dimension. Find your feet and dance and fly from the stars to stand amid the shield of the rainbow flower field.
With love you grow complete and expose your soul. Spinning around around around … reflect … is this really you, are you only visible through light oh Ruby I need more light I need more love keep on spinning. You are intoxicated with love change colours with every breath riding horse through forest navigated by the magical powers of the singing flowers. Oh Icelandic beauty can you hear the frozen flowers perform your song?
Aghast … what is that shrill? Magnificent unicorn, now you stand still, bedazzle me with your eyes as they explode into another technicolour world. I can now see my castle. Cum with me loved one so we can make three. One thousand rainbows … one pair of eyes … I see me through so many a guise. Fly fly fly when will this journey end, am I travelling to find myself my spirit my form lost a pixel a block within a glass cube?
Many adventures are to be had and friends to be made although, at times, things will not feel quite right, all remains bright but from within the light you might gasp with fright. Do not fear if we unite forces all will become clear and rainbow galactica will not become a holographic souvenir but a fascinating celestial artistic frontier.
'The human longing of visiting the world beyond the rainbow is introduced to us from an early age and has found itself at the centre of my research over the last years', states Amy Rush, the exhibition a record of her quest for knowledge concentrated in the various imaging processes of rainbow holography. This quest has continually challenged Rush to seek new and more superior ways to enlarge her rainbow landscape. Beginning her exploration with video, "I can sing a rainbow", a 20 minute performance with a three-piece band and dancer on a rooftop of an abandoned building in Surry Hills, Sydney 2002, Rush soon found herself at the Center for Holographic Arts in NYC. It was here that her holographic superhighway between material and virtual worlds began to breathe rapidly resulting in a frenzy of work, the Series Somewear. Through white light transmission holograms made from pulsated master laminated on glass Rush entered into her rainbow world through transformation into a rainbow … a mystical illusionary character.
During this transmutation a disturbing feeling around her neck occurred as she watched herself penetrate this world. The birth of her first hologram, a single head crowned with roses, suspended in another mystical realm winked playfully back at her. In this new world reminders of the past to create the present were necessary … a tangible world … a jewel vault, mermaid, unicorn, fairy and red glitter shoes followed. Rush's fantasized cosmogony and its Eve like fairy princess head longed for more. An artist making her 'dream' happy and consequently attempting to fulfil her own ego… sought out deficiencies…
A year later her insatiable quest to fulfil her artistic passion manifested in the need to create 'the dress'. A wearable life-sized dress made from triple exposed white light transmission holograms copied from pulsated master laminated on to sections of Perspex, a tribute to the fashion designer Wallid. But she sought more, her ego unsatisfied; the dress too dense to enter her rainbow world, a landscape was imperative. The line between the realm of the rainbow and reality became narrow and less distinct. A parallel between Rush's life and her alter ego became apparent. In order to grant her the possibility of travelling in the rainbow realm, Rush had to travel into (across) the world, to find the places and persons to repair the holographic dimension of her lonely ego, the princess.
This once purely analogue work provided the conception and birth of her Rainbow Galactica, digital its growth, landscape and Rush's entrance evidenced in her series of full colour holographic stereograms, 'I love you', created in Cologne, Germany 2005. Rush's work screamed out louder colour and movement was possible in a place which was once static.
Rush's work capitalises on the misconception people possess of holographic art practices and the difficulty in generating original subjective authored realities. The misconception that holograms are merely exact 3D replicas of existing realities is kept alive through the special effects representation of holograms in films and the incorrect naming of illustrations which are simply life like transparencies of concrete things. This misconception is further promoted with the wide acceptance of these ideas by popular culture, early theoretical writings and limited public exposure to artistic practices. Rush's work plays into this public perception of a hologram as being a replica of an actual reality and uses this misconception to fulfil her artistic objective. She says, "At first my work may seem childlike naive but the discourse of my work is all about the misunderstanding of the holographic medium.'
Her musing surrounding the misunderstanding of the holographic medium united her current practice with four artists, Giamo Heinze, Martina Mrongovious, Paula Nino Ramez and Park Joo Sup. The identifying common link is their attempt to not replicate the real but generate their interpretation of the reality with original fresh impressions within the hologram.
Argentinean artist Guillermo Heinze also digitally places himself within his work revolving and reassesses his psychological hallucination constantly. More recent inquiry has resulted in the use of the steriogram to locate God, defining his/her/its territory within the holographic territory as he examines the greater issues of life metaphorically. Heinze confirms Rush's existence in the Rainbow Realm through the metamorphosis of rainbows into her eyes establishing portholes to her child like fascination with shape and colour enhancing and witnessing her view as one.
Artist Martina Mrongovius is interested in "an anchoring of what you see and where you are". She makes it possible for the viewer to navigate and explore her environment through manipulating images of urban landscapes and representations of its territory capturing dimensional relationships through the exploration of connections made between different perspectives and the temporal patterns within holography. Rush comments "She includes herself as the main character of her explorations in the navigation of the urban environment where she involves her character into the reality of the world and its deconstruction." Mrongovious' work 'The Voyage of the Lighthouse Boat' allows the viewers passage into the Rainbow Realm. This work is atypical for her remarking "the hologram is of an insect-boat. It is a humorous comment on the nature of adventure and the absurdity of the connected meaning within the urban landscape."
The rainbow is further played in by artist Paula Nino Ramez, manipulating it to share with the viewer her exceptional moments comprised of memories, real life situations and people. Rush compares Ramez's work with Dorris Villa and comments, "her work is narrative to her own life. Her work featured in this exhibition is based on a delightful Colombian memory involving a talking 'Loro' bird, amazing vacation house, the warmth of the sun, swimming pool until the bird jumps into the pool with it's memory existing in the hologram.
The work of Park Joo Sup's deals mainly with the unseen and spiritual world using the rainbow to house these unseen spirits. He says, "because I think hologram is the only tool to express such worlds. We use the materials such as oil, paints, pigments to express the things we could see with our eyes but we can't see the light of the world and spiritual world. I think hologram is a good way of showing the world between the two opposite parts. You don't see its film without light and can't even guess what is inside of it." With his work 'The Rainbow Cube', the glass-cube expresses the body whilst the rainbow reflects the spiritual world. Rush writes, "Joo Sup is now proposing his new work, Rainbow Cube, as a pure matter building block of the world in the context of this exhibition. His focus in this exhibition is the rainbow and where we are, as humans and it connect".
Explore Rush's rainbow superhighway between material and virtual worlds through her fictitious alchemical tale. Be cleverly guided through her and fellow peer's holographic playground quashing clichéd populist miscomprehensions of their world whilst avoiding a mundane classical conceptual analysis. Delight, frolic and play in her juxtaposition of reality and fantasy as you visit her world beyond the rainbow.