Philippe Boissonnet
HoloCenter at the Clock Tower of LIC
29-27 41st Ave ● Queens Plaza North ● Long Island City NY 11101
March 7th – April 5th, 2014
The aesthetic qualities of the holographic image such as evanescence, transparent volume, emanation of light and dynamic viewing serve Philippe Boissonnet to underscore the precarious nature of the visible itself. Playing with the holographic perceptual phenomenon, and sometimes interactive control systems, he is pointing out the cultural importance of beings' disembodiment and of images' fleetingness in our technologically perceived reality. This selection of his installations, through the last 20 years, destabilizes the viewer's certainties with respect to their concept of the real and its supposed stability.
Philippe Boissonnet was born and studied visual arts in France. He migrated to Montréal in 1985. Since 1993 he has been a full-time professor of visual and media arts at the Université du Québec à Trois-Rivières. He received the Elisabeth Greenshields Foundation award (Canada, 1983) for his works combining drawing and photocopier images. For his works incorporating holograms into interactive installations and sculptures he won the Shearwater Foundation award for Holographic Arts in 1998. Boissonnet has been part of several artist-in-residency programs such as The Fringe Research Holographics Lab (Toronto, 1984-1985), the Dirección Nacional del Antártico (Argentina, 2007) and Center for the Holographics Arts (2012).
Since 1983 Boissonnet's work has been exhibited in a number of group and solo exhibitions in Canada, United States, France, Germany, Spain, Brazil, Argentina, Mexico, Colombia, Australia, Japan, Austria, Finland and England. Most of his installations encompass several forms of artistic expression: drawing, photography, sculpture, holography, video and digital imagery.
Catalogue available from the artist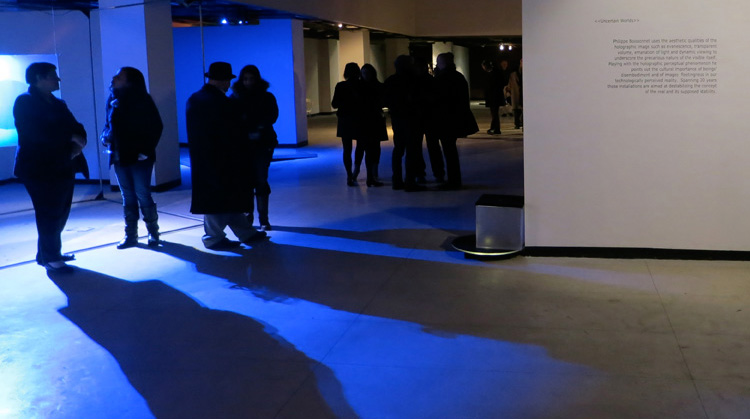 Boissonnet is supported by Université du Québec à Trois-Rivières and Conseil des arts et des lettres du Québec
This exhibition is made possible by the Queens Council on the Arts with funds from the New York City Department of Cultural Affairs in partnership with the City Council and the New York State Council on the Arts with the support of Governor Andrew Cuomo and the New York State Legislature.