ARTIST HOLO MEMORIES
This artwork was created with a Holographic Art Grant from the Hologram Foundation. It has been shown in the touring exhibition IRIDESCENCE.
'I composed this sculptural and light piece by associations of a neuronal
network, transparent colors and painter's accessories, as to suggest a cartographic paradigm of my practice where the brain is the territory and the viewer's eye the map'

Philippe Boissonnet
Within the steel outline of a briefcase a holographic image of a digital neuronal structure is overlaid on a painter's palette of pure color to suggest a relational structure between creation, perception and commodification. Contemporary neurosciences provide detailed imagery of how our brain and memory function. Yet from these images it is difficult to map and represent what is cognition or how we create meaning.
Philippe Boissonnet often combines the entrenched meaning of maps and globes with symbolic imagery of tools and actions to create systems of meaning in his installations. The painter's palette is a recurring accessory that he uses to suggest the artistic practice of image creation.
This is his first artwork using imagery of the brain. The digital tensor imagery is a recording of neuronal connections which the artist relates to Marcel Duchamp and the idea that the brain of the viewer at the end establishes the meaning and the work as "art".
Artist Holo Memories, 2018
Holographic sculpture with glass hologram palette, 12" x 15"
and steel structure 39" tall, 21.6" wide and 12" deep. Edition of 4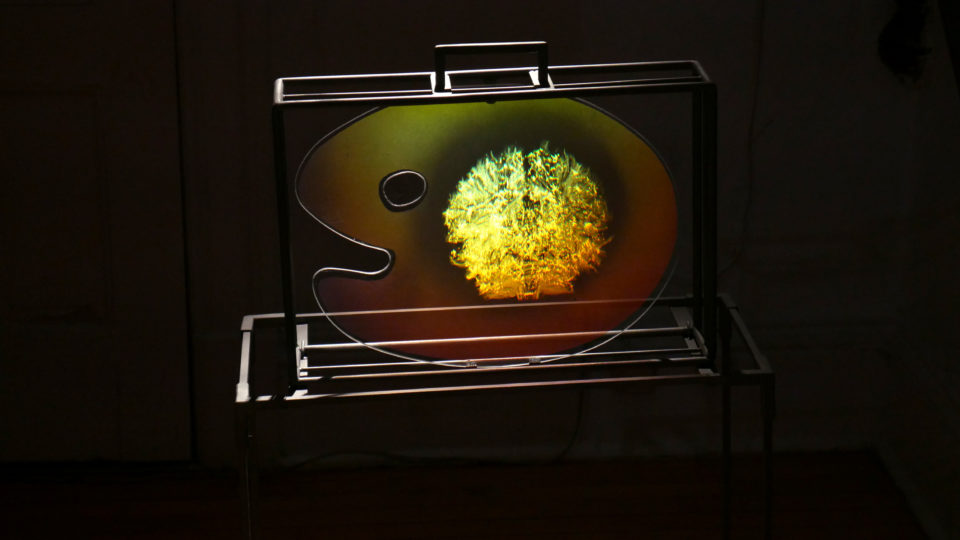 Holographic technical support: Atelier Holographique de Paris with special thanks to Pascal Gauchet
Digital imagery support: Lausanne EPF & University of Geneva with special thanks to Vanessa Siffredi and Silvia Obertino
One inspiration for Artist Holo Memories is the Holographic Suitcase performative intervention that Philppe Boissonnet carried out as part of the 'Transparent Travel 2017' collaborative project in Venice (Italy).
Transparent Travel is an international platform, curated every two years in Venice city by THE TWO GULLIVERS (Besnik Haxhillari & Flutura Preka), that operates with a transparent traveling suitcase as a performative accessory and as an alternative venue and space for interdisciplinary exhibitions and experimentations. Participants are invited to travel with transparent suitcases through customs and borders to Venice. International participants were invited, in 2015 and 2017, to travel with transparent suitcases to Venice and around its famous Art Biennale but also, in 2016, to New York City art museums for performing individual and group interventions.
Transparent Travel, is considered as a international tribune for encouraging critical discourse and deeper engagement in performance by questioning its freedom and its limitations in the public space. Results of the projects have been presented at Galerie R3 (2015, UQTR, Qc, Canada) and Amelie A. Wallace Gallery, SUNY College at Old Westbury (2016, New York).
Transparent Travel 2015, 2016 and 2017 have been supported by the URAV Group (UQTR, Qc, Canada)