'My works of meticulously created installations & captured sequences
blur the boundaries between two & three dimensions. I try to present a
colourful world where real life, narrative, light & shadow connect & collide.'

Partick Boyd's work brings attention to the element of time in holographic
images. He creates holograms from sequences of photographic footage
that capture action within the hologram. Boyd photographs every-day
events with a 'hand-held' vernacular style placing the viewer as bystander
within the scene. His fascination with patterns of everyday movement is
an ongoing theme of his animation with holography.

Patrick Boyd also works with pulse laser hologram recording and takes
a different approach. In meticulously constructed fictitious scenes the
narrative is told through objects, often worn by the subject. His pulse
laser holograms present a frozen holographic scene for the viewer to look
around.

Boyd has an MA in Photography and Holography from the Royal College
of Art, London and was a Fellow at the Academy of Media Arts, Cologne.
He was awarded a year-long artist residency at the Museum of Holography
in New York (1989/90) and has created multiple projects through the
HoloCenter Pulse Laser Holography Program. His solo exhibitions include
Butler Museum of American Art, Youngstown, Ohio, USA; Royal College of
Art – Link Gallery, London, UK and Art House, Takasaki and Neuse Gallery,
Maiebashi, Gunma-ken, Japan.
Hobby Horse Morris Dancers I

MORRIS DANCERS
Combining motion, emotion and humor Patrick Boyd captures the strange
English tradition of the Morris dancers. These traditional dances with
uncertain origins can be traced back as far as the 15th Century. Drawing
on the aesthetics of vernacular photography Boyd captures the view
of a casual bystander. These views are then layered like photographs.
The sequences are combined into rhythmic compositions that create a
holographic impression of a photographer watching.

MORRIS DANCERS 2016/17 series of five animated reflection holograms
Dichromate gelatin embedded in glass with mounting bracket

Morris Dancers I Unique + 1 artist copy, 7" x 8.5"
Morris Dancers III Unique + 1 artist copy, 7" x 10.5"
Four Musicians Unique + 1 artist copy, 7.5" x 10.5"
Morris Tree Edition of 2 + 1 artist copy, 8.5" x 11"
Hobby Horse Edition of 2 + 1 artist copy, 8.5" x 11.5"

Master recordings created at the artist's studio in Wales
Hologram prints created at the Light Foundry, USA with August Muth
More...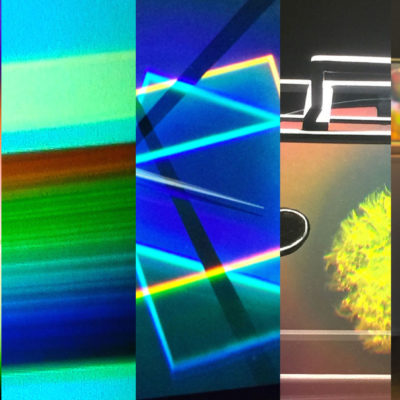 IRIDESCENCE