'I manipulate photons with a particular interest in the creative possibilities
of holography.'

Pascal Gauchet's first artworks with light were black and white
photographs. Through holography he first explored light with a process
focused on physical colors and its iridescent hue. In these works the
volumetric aspect of holography is often of secondary importance.

His recent construction of a system for synthesizing multiple photographic
points of view into one single holographic image enables him to go back
to photography. A succession of discrete windows is distributed in space
giving a multitude of points of view. Combined they create a single
window of extended geometrical perspectives.

Pascal Gauchet studied creative photography at Nottingham Polytechnic,
UK, and founded Atelier Holographique in Paris. He produced numerous
commissions for Cartier, Christian de Portzamparc, Van Cleef & Harpels,
Peugeot and other clients. Exhibitions of his artwork include 'Arts and
new technologies' in Quebec, at Arco in Madrid, at the National Centre
for Arts and Technologies in France and recently at the Arts Museum
in Toulon, at the Lanterna Magica in Switzerland and a solo exhibition
I.LUMEN (2017) in Paris.

Gauchet has received awards from the Shearwater Foundation (New York)
and the Anthony Foundation (Houston). His artwork is in the collections
of MIT Museum, French Photography Museum, ZKM | Center for Art and
Media Karlsruhe and private collectors.
Random Memories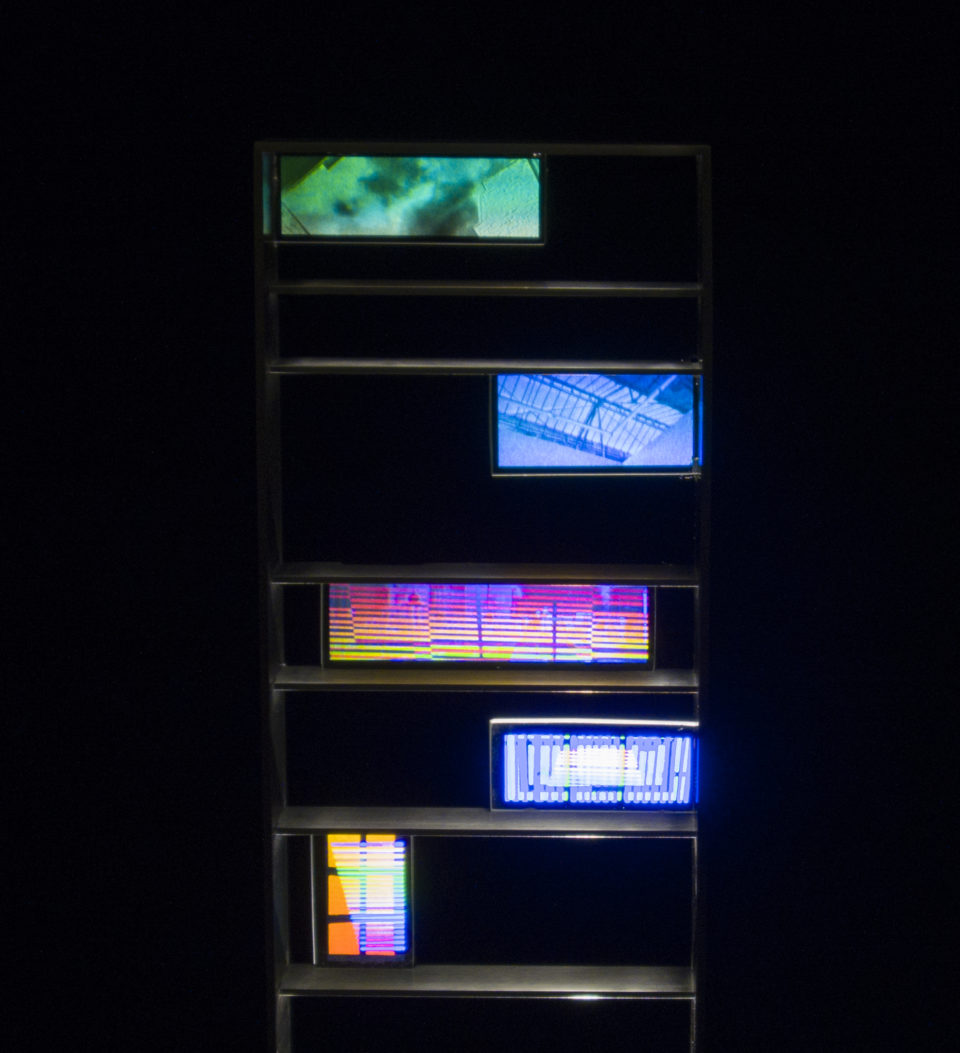 RANDOM MEMORIES brings together Gauchet's methods of generating
geometric structures of light and his recording of holograms from
multiple photographs. In each panel both the abstract and photographic
is found. The images suggest fragments of memory. Vivid glimpses of
transient places. Shapes and colors recombine and cross each other
following the movements of the viewer. The hologram becomes a
window, through which the image "floats", aerial and transparent, leaving
the viewer to decide their own points of view. A new universe opens up,
a new relationship with imagery.

Random Memories, 2016
Sculpture with eight hologram panels, 70" tall and 8.25" wide
Edition of 2

with reference to Caillac, 2017
Hologram synthesized from 50 photographs, 12" x 16"
Edition of 7 + 1 artist copy

and This is not a Napoleon III style clock, 2015
Montage of four holograms in aluminium structure
Edition of 3 + 1 artist copy