Artists from around the world come to the HoloCenter's Pulse Laser Studio to make art holograms.
From 1998-2008 our studio was located in Long Island City, New York. In 2009 we moved the pulse laser to Ohio State University in Columbus, Ohio where a new facility was constructed to house the studio. In 2012 the program was re-launched. We now offer both experienced holographic artists the opportunity to produce artwork for exhibition as well as an introductory five day workshop for artist and educators who wish to incorporate holography into their practice.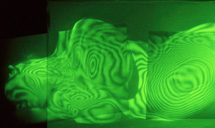 A 'Pulse Laser' enables holograms to be recorded of moving subjects, akin to a high-speed flash photograph. To make holograms of people a pulse laser is needed. To make the hologram a flash of laser light is split, and directed through optics and diffuses to illuminate the subject and the holographic film. The light recombines in the film to create an interference pattern that encodes the light reflected by the subject. The Pulse laser at Ohio State University is a 1 Joule JK-Ruby laser that emits red light (694nm).
Apply for the Pulse Laser Residency and Workshop Program
Documentation by Artists of the Workshops
Save
Save
Save
2019 Workshop Participants:
Ziv Ze'Ev Cohen
Arthur Fornari
Daniel R Johnson
Kacie Lees
Htet T San
Jonathan Sims
Joey Steigelman
Ariel Xiu
Giovana Zuccarino
2018 Workshop Participants:
Tina Kohlmann
Linnea Rundgren
Allison Wade
Sofy Yuditskaya
2017/18 Artist Residencies
Anna Guillem and Narcís Rovira (Spain)
Alan Rhody (USA) – completion and documentation of project
2017 Workshop Participants:
Emily Duke (USA)
Eric Max Kaplin (Canada)
Emmanuelle Negre (France)
Natalie Wood (USA)
2016 Artist Residencies
Alan Rhody (USA)
Patrick Boyd (UK) – continuation of project
2016 Workshop Participants:
Jeffrey B. Hazelden (USA)
Sandra Meigs (Canada)
Miho Ogai (USA)
Eric Valosin (USA)
Zsofi Valyi-Nagy (USA)
2015 Artist Residency:
Patrick Boyd (UK)
2015 Workshop Participants:
Elina Baeckman (Finland)
Alexandra Fresch (USA)
Arlinda Henderson (USA)
Hannah Mishin (USA)
Steve Pavlovsky (USA)
2014/15 Artist Residency:
Eric Leiser (USA)
2014/15 Workshop Participants:
Jacci Delancy (USA)
Tess Elliot (USA)
Eric Leiser (USA)
Kayla Lewis (USA)
Fred Needham (USA)
2013 Artist in Residency:
Setsuko Ishii (Japan)
2013 Artistic Development Residencies:
Swann Rack (Germany)
John Also Bennett and Peter Burr (USA)
2013 Workshop Participants:
Carole Brisson (Canada)
Narcís Rovira Castellà (Spain)
Lea Cetera (USA)
Samantha Hookway (Sweden)
Yasmin Than (USA)
2012 Artists in Residence:
Philippe Boissonnet (France/Canada) Video Documentation of the Project
2012 Workshop Participants: John Also Bennett (USA)
Peter Burr (USA)
Leidy Marcela Giraldo Castano (Columbia)
Rachel Garrard (UK)
Ulika Gomm (Sweden)
Guillermo F. Heinze (Germany)
TJ Hospodar (USA)
Rebecca Kale (USA)
Ernesto Lomeli (Mexico)
Jacqueline Hoang Nguyen (Canada/Sweden)
Dora Tass (Italy)
Artists In Residence at the Long Island City Studio 1998-2008
Cycle VIII (2008)
Carroll Brisson (Canada)
Sally Webber (USA)
Paula Dawson (Australia)
Betsy Connors (USA)
Cycle VII (2007)
Pearl John (UK)
Tom Cvetkovich (USA)
Irena Paskali (Macedonia/Germany)
Seth Riskin (USA)
Cycle VI (2003 – 2004)
Yoko Kuroyanagi (Japan)
Xavier Mascaro (Spain/New York)
Martina Mrongovius (Australia)
Eva Davidova (Bulgaria/New York)
Pepe Buitrago (Spain)
Georges Dyens (Canada)
Cycle V (2002 – 2003)
Iñaki Baguitistain (U.K.)
Patrick Boyd (U.K.)
Paula Dawson (Australia)
Jo Fairfax (U.K.)
Cycle IV (2001 – 2002)
Patrick Boyd (U.K.)
Betsy Connors (USA)
Michael Wenyon and Susan Gamble (U.K./ USA)
Roberta Booth (USA)
Rudie Berkhout (Holland / USA)
John Mitton (Ireland)
Ana MaCarthur (USA)
Jo Fairfax, Leics (U.K.)
Adriene Klein (USA)
Eva Davidova (Bulgaria / Spain)
Cycle III (2000 – 2001)
Brigitte Burgmer (Germany)
Marie-Christiane Mathieu (Canada)
Setsuko Ishii (Japan)
Ken Dunkley (USA)
Syunsuke Mitamura (Japan)
Sally Weber (USA)
Seth Riskin (USA)
Dieter Jung (Germany)
Cycle II (1999 – 2000)
Georges Dyens (Canada)
Doris Vila (USA)
Philippe Boissonnet (Canada)
Susan Cowels Dumitru (U.K / USA)
Shu Min Lin (Taiwan / USA)
Matthew Schreiber (USA)
Sloan Nota (USA)
Harriet Casdin-Silver (USA)
Cycle I (1998 – 1999)
Margaret Benyon (U.K.)
Dean Heardy (USA)
Mary Harman (Canada)
Sam Moree (USA)
Ikuo Nakamura (Japan / USA)