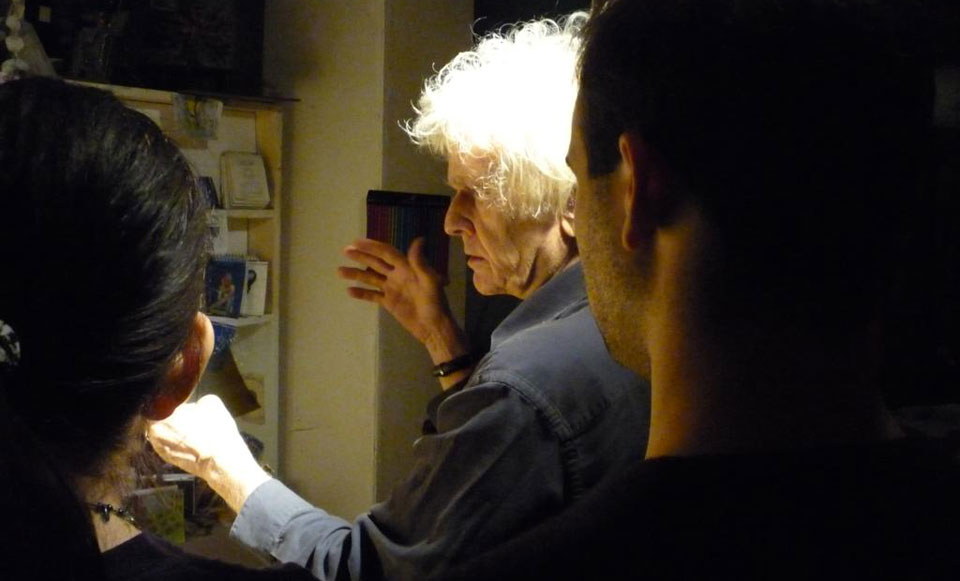 Sam Moree is an artist who has ben working with holography, video and sculpture for over 35 years.
Sam Moree was closely associated with the New York Museum of Holography in SoHo where he participated in numerous exhibitions and presented an inspirational solo show, ʻFlux' in 1982.
Sam Moree co-founded the New York Holographic Laboratories in 1977 with Dan Schweitzer and joined the Center for the Holographic Arts in 2001 enabling a number of artists from around the world to produce stunning holographic artwork. As well as being a mentor for many well-known holographers, Sam teaches a holography class for the School of Visual Arts in his Manhattan studio.
Sam is renowned for his sculptural pieces that incorporate holograms and his work with rainbow holography. In 1996 he was awarded a fellowship at the Academy of Media Arts (KHM) Cologne, Germany. Some of Moree's most notable exhibitions have been at Center Pompidou in 1985; the Kuntshalle Hamburg in 1987; Pulhiem Museum of Holography in 1985; and the Dali Museum in St Petersburg, Florida 1999.
---
Exhibitions & Art
---
Interference Coexistence (September 6 – October 19, 2013)
This Morning on the Balcony Reminded Me of a Dream, 2010. 200 frame transmission hologram laminated to glass mirror 11 x 14'
In "This Morning on the Balcony Reminded Me of a Dream" the protagonist both looks at us and down into a strange cavourenss depth. The animated hologram is installed on the stairwell, where the viewer looks up into it. As the viewer moves on the stairwell to animate the image and sees into the scene's exaggerated dyanimcs a destabalizion of spatial perception occurs.
"While capturing This morning on the balcony reminded me of a dream I became aware of how – like my imagination shaping a dream-landscape – looking through the camera could heighten a sense of the vertiginous."

-Sam Moree

                                                                        Stepping Out of Film, 2013                                                                                                              200 frame multiplex transmission hologram                                                          laminated to metal mirror 14 x 11″
Stepping Out of Film is the latest in Mrongovius' series of animated holograms that capture a protagonist in the act of self recording. The view of the camera's shadow and photographer's body are combined to show and action of stepping. These holograms comment on the culture of digital hand-held photography and video recording, and how we see ourselves through the perspective of a camera.