A dark space exhibition that brings together artists working with light as a material and medium.
Emily Andersen, Ed Bear, Blinn & Lambert, Julian Day & Kamari Carter, Rachel Guardiola, Emma Hendry, Jess Holz, Rita Jimenez, Shohei Katayama, Nooshin Rostami and Evan Voelbel
Curated by Jonathan Sims
All illumination will emanate from the artworks that include experimental projection, neon, ultraviolet, stereoscopy, and other manipulations of light. Sculptural projections have been created onsite by combining digital and optical manipulation with precision-made and found objects. Light is deconstructed, shaped and streamed in these stunning new works.
Virtual Opening on Thursday, December 3 at 7pm
with streamed experimental audiovisual performances by Testu Collective.
On view December 3-27, 2020
Thursdays, Saturdays & Sundays, 5-9pm by timed entry
The Plaxall Gallery
5-25 46th Ave, Long Island City, 11101
– Enter through the parking lot –
AUDIO GUIDE – link coming soon – listen online or via Gesso.app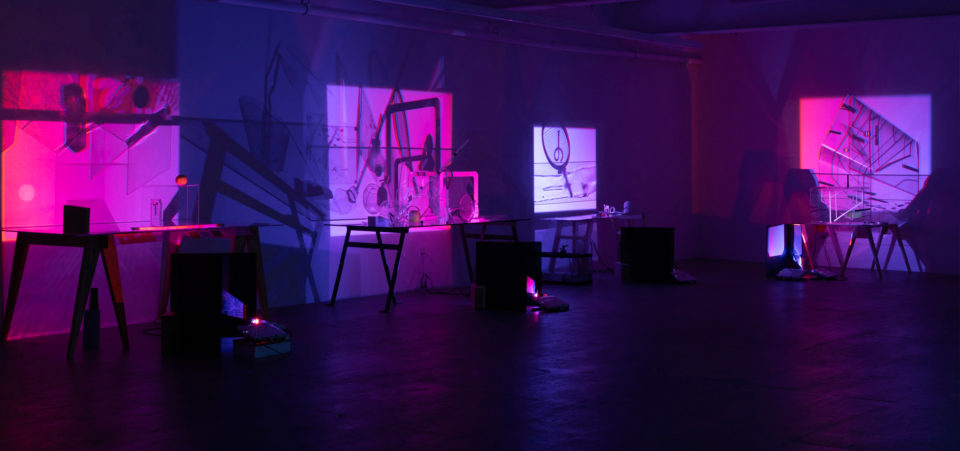 The Plaxall Gallery is managed by Culture Lab LIC who are currently running a great program of outdoor music. Go enjoy yourself and buy some beer and tacos to support the arts.
EDGE OF LIGHT is made possible in part by the Queens Council on the Arts with public funds from the New York City Department of Cultural Affairs in partnership with the City Council; and in part by New York State Council on the Arts with the support of Governor Andrew M. Cuomo and the New York State Legislature. The audio guide and virtual tour are made possible with funds from the NYSCA Electronic Media/Film in Partnership with Wave Farm: Media Arts Assistance Fund, with the support of Governor Andrew Cuomo and the New York State Legislature.
IMAGE: Jess Holz, Borderlands, 2020. Installation with laser cut Fresnel lenses and video of the artist's skin being examined under the scanning electron microscope.