Vibrations in Parallax (with an Homage to Molly Brown The Cat)
Parallax
HoloCenter on Governors Island, 2014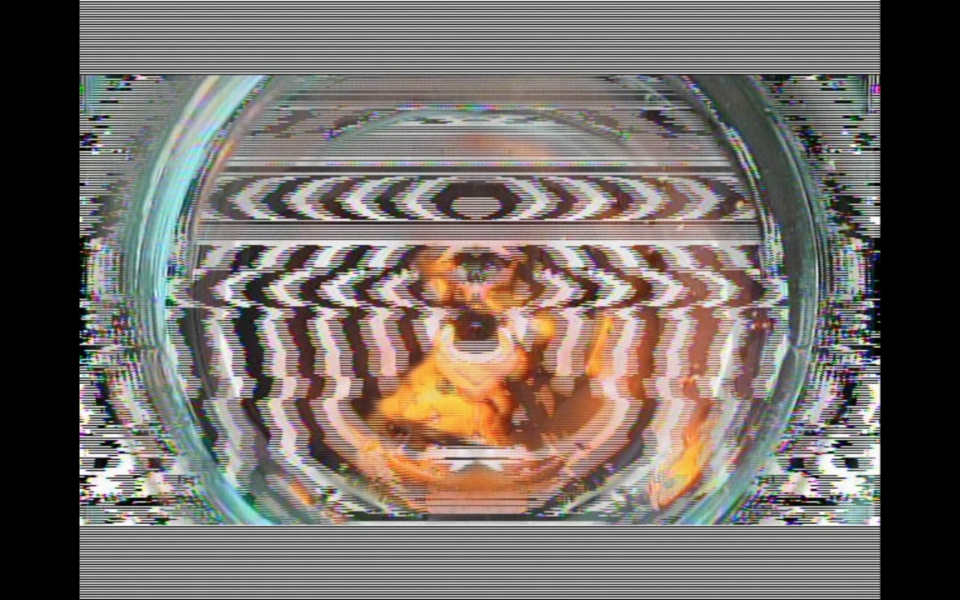 Vibrations and waves are among the most fundamental phenomenon in the Universe. They make up everything within and around you, both physically and metaphorically.
Using cymatics (visible sound) and experimental video, Vibrations in Parallax examines vibrations and waves along various lines of sight and scale of time. The piece begins with video of a sine wave at 150Hz (vibrations per second), and descends past the threshold of human hearing (20Hz), dropping all the way to zero. The work then proceeds through a piece of visual music, performed around a series of cymatic drones below or slightly above 20Hz. Various video tools such as multiple camera angles, video mixing, video feedback, and circuit bent video are used for visuals. A subwoofer is also included in the installation, adding these subtle tones to the projection.
As serendipity would have it, the artist's cat happened upon this little island of vibration during filming, and couldn't resist drinking from the artwork. This portion of the work is dedicated to Molly Brown, the brave and lucky cat who washed up on Governor's Island in May of 2011. Molly's origin is unclear, as is how she survived a trip across New York Harbor. Theories suggest she may have come from New Jersey or Brooklyn, and that she either swam or floated across on a piece of debris. Upon her discovery by workers on Governor's Island, she was taken into safety. The original owner could not be found, and an online poll was announced to choose a new name. A final vote decided on Molly Brown, in honor of the Unsinkable Molly Brown, who heroically saved lives on the Titanic as it was sinking. A member of the boat crew on the island took Molly the cat in, and she is now living in sunny Florida after they moved.
Steve Pavlovsky is a multidisciplinary artist, who is best known for his work as Liquid Light Lab. Liquid Light Lab is an old school, hand made light show and live visuals performance. Steve considers the light show the fifth member of the band, and a philosophy of real time visual expression of music is fundamental to the work. He has accompanied numerous internationally and nationally acclaimed musicians, including The Zombies, Brian Jonestown Massacre, Antibalas, The War on Drugs, Roky Erickson of the 13th Floor Elevators, The Black Angels, The Jon Spencer Blues Explosion, Ivan Neville's Dumpstaphunk, The New Rider's of the Purple Sage, and Chali 2na of Jurassic 5. He has also performed at music festivals such as Mountain Jam and Austin Psych Fest, and works with community groups such as the Police Athletic League of Harlem.