IRIDESCENCE is a cumulative exhbition of artworks produced through The Holographic Art Grant, a joint initiative by the Hologram Foundation (Paris) in conjunction with Center for the Holographic Arts (New York).  Selected through an international competition each artist produces new artwork.
Holographic artworks sculpt with light. The artworks create a viewing experience where memory, motion and images entwine.
Artists in production:
Philippe Boissonnet (Canada),  Betsy Connors (USA)
Sam Moree (USA), August Muth (USA), Ray Park (South Korea)
Artworks completed and exhibited by:
Michael Bleyenberg (Germany), Patrick Boyd (UK), Lana Blum (USA),
Pascal Gauchet (France), Setsuko Ishii (Japan) and Fred Unterseher (USA)

The new artworks will be shown in the IRIDESCENCE exhibition is coming to New York City in Spring 2019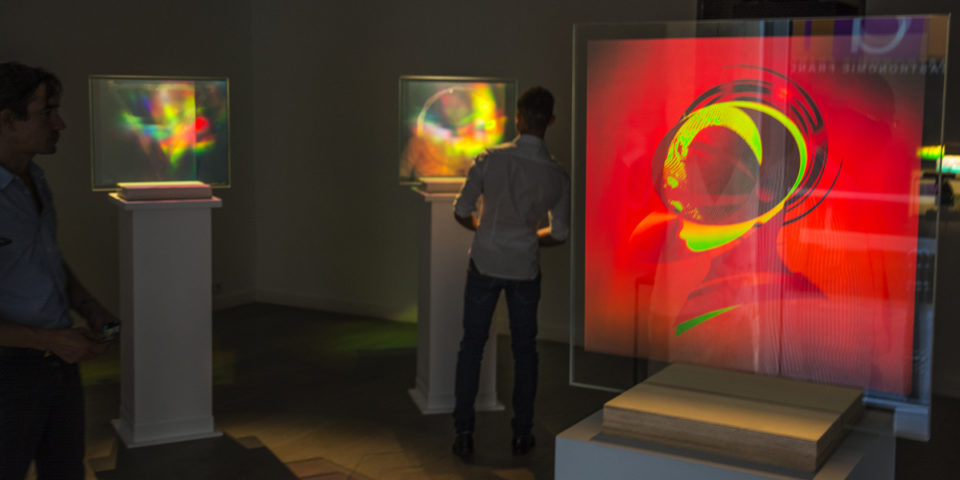 IRIDESCENCE in Paris,  May-June, 2017
The Holographic Art Grant is a competitive award that recognizes outstanding artists working with holography.  The selected projects are chosen for artistic merit and originality.  The Holographic Art Grant provides production funding to enable artists to create high quality art holograms.
Surprised by how few art collectors owned holograms Hugues Souparis established the Hologram Foundation to help artists overcome production costs and make artworks available to buyers.  Creating a funding pool for hologram production enables the creation of new artworks, with the goal of bringing holograms into our everyday environments.
The Center for the Holographic Arts supports artists through production residencies,   project development and exhibitions. The HoloCenter is an innovative art center that inspires with creativity and technology.
Projects created through the The Holographic Art Grant:
MAY 27 – JUNE 18, 2017   ESPACE 24B
24 BIS RUE–SAINT ROCH 75001 PARIS

SEPTEMBER 1 – OCTOBER 9, 2017   HOLOCENTER
COLONELS ROW 403 GOVERNORS ISLAND NEW YORK

NOVEMBER 9 – 24, 2017   CENTRAL BOOKING
21 LUDLOW STREET, NEW YORK 10002

Save
Save
Save